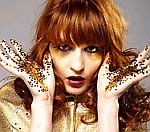 Florence Welch
has admitted that
Pete Doherty
once asked her to marry him but she turned him down.
The singer, who plays at this weekends V Festival, knew Doherty before her stratospheric rise to fame with Doherty said to be enamoured with the red-haired star.
Florence claims that her Dad was the one most unhappy about Doherty proposing however, saying: "My dad had heard Pete had proposed and got very anxious that I might say yes.
Speaking to The Daily Mirror Florence continued, "He's a cool dad but I think that was a step too far for even him. I reassured him that I'd never marry Pete."
(by David Renshaw)