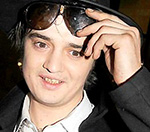 Pete Doherty
is at the centre of a police investigation into a burglary at a record shop in Regensburg, Germany, according to reports.
The Babyshambles and Libertines star was allegedly one of three men seen outside the shop in the city's Old Town early on Tuesday Morning (March 8).
An eye witness claims she passed the men and then heard a crash, before one man reached into the shop through a broken window.
The unnamed woman reportedly told a local newspaper: "It was Doherty. I clearly recognised him."
A spokesman for Regensburg police confirmed that a "famous suspect" was involved in the case, but would not reveal their identity, reports The Guardian.
Doherty is currently in the Bavarian city to shoot his debut feature film, The Confession of a Child of the Century, alongside Charlotte Gainsbourg.
(by Jason Gregory)