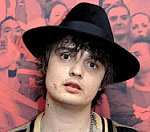 Pete Doherty
has spoken to police about the death of an actor at a party he attended in 2006.
The Babyshambles star answered questions about the death of Mark Blanco, 30, who fell from the balcony of a flat in Whitechapel, London.
Solicitor Sean Curran told the Press Association Doherty was not questioned formally and attended the London police station voluntarily.
Police investigating Blanco's death initially said he had jumped to his own death.
But his family then launched an independent probe which showed that he could not have deliberately jumped and suffered his head injuries.
A Scotland Yard spokesman said they had yet to make any arrests in the investigation.
Meanwhile, on Tuesday (February 2), Doherty also appeared in court to deny a charge of cocaine possession. The cases are not related.
(by Jason Gregory)