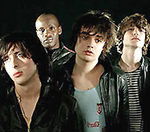 Pete Doherty
found a new film about
The Libertines
reunion "very difficult to watch", its director has said.
The film, entitled The Are No Innocent Bystanders, premiered at the Troxy in East London last night (April 27).
It follows the reformed band preparing to play last year's Reading and Leeds festivals.
Director Roger Sargent said Doherty, who was the only member missing from the premiere, had seen the film and found it "very emotional and kind of difficult to watch".
He told the Press Association: "I think possibly by actions or accident they're quite honest and open with me. They were very honest and open about their bandmates and that's kind of hard to watch.
"It's the first time you'll ever be able to see the truth really. Certainly with Pete it's just been lies until this film - he's been demonised and projected as some kind of villain in a horror film almost, and it's not really like that."
Doherty's bandmates Carl Barat, Gary Powell and John Hassell also attended the premiere.
(by Jason Gregory)