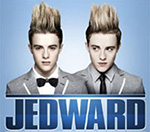 Jedward
have been left red-faced after mistaking
Arcade Fire
for a group on
The X Factor
.
The twin brothers, who found fame on the show, confused the Canadian band with another act during an interview with the Irish Times.
Asked if they knew who Arcade Fire were, they replied: "Eh, we think so. We're not sure. Were they ever on the X-Factor?
"Arcade Fire? Hmmm. Are they like Meatloaf? We like Meatloaf."
Later in the interview, the 18-year-olds – real name Edward and John Grimes – also claimed that Oasis' 'Wonderwall' was an album by Nirvana.
And when asked to name one the guitarist in The Smiths, they replied: "Don't know – oh wait, is it that guy Morrissey?"
It was Johnny Marr who played guitar for the Manchester band.
(by Jason Gregory)