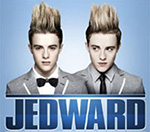 Jedward
have been told that they cannot incorporate tigers into their
Eurovision
performance.
The twins - real names John and Edward Grimes - will represent Ireland with the song 'Lipstick' next month.
They had hoped to include live tigers in their performance in Germany, but Eurovision bosses have apparently turned down the request.
"The boys thought that bringing on tigers was a foolproof plan," a source told the Sun. "They know that the other countries don't think Britain or Ireland take the competition seriously.
"This was the ideal way of showing that they'd put a lot of thought into the gig. They're absolutely gutted."
The Eurovision Song Contest will take place in Düsseldorf on May 14.
(by Jason Gregory)