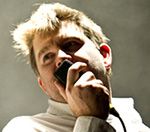 LCD Soundsystem
frontman James Murphy has revealed he twice missed the opportunity to work with
Arcade Fire
.
Murphy said that on bothocassions both acts were working in the same studio but that the collaboration never took place.
"I missed the opportunity to work with Arcade Fire in the studio twice on two albums in a row just because they were recording at the same time I did and that broke my heart 'cause we toured together," he told the BBC.
"I consider them to be very good friends and I admire what they do and it would have been really fun to work with them."
Murphy also revealed that he would like to record with Soulwax.
As previously reported, Arcade Fire are set to play a one-off show in London tonight (July 7) in support of their new album 'The Suburbs'.
(by Jason Gregory)