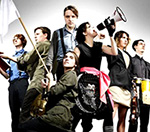 Arcade Fire
,
U2
and
The Killers
' record label Mercury have announced that they will be stopping the release of singles on CD and vinyl.
Mercury like many other labels have lost money on singles in 2010 and have now said that they will only release them on "rare occasions".
Physical singles now only provide less than 1% of total weekly single sales, with digital downloads becoming the main source for music lovers.
Elton John's 1997 "Candle In The Wind", a tribute to Princess Diana is still the UK's biggest ever selling single.
Meanwhile, Arcade Fire, The Chemical Brothers and Pulp will play this year's Electric Picnic festival in Ireland, it's been announced.
(by Holly Frith)