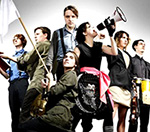 Arcade Fire
performed at a surprise gig in Haiti on Tuesday night (March 28).
The Montreal-based band played a 45-minute set at the Hotel Oloffson in Haiti's capital city Port-Au-Prince.
The set also included four covers Rolling Stones' 'The Last Time', Blondie's 'The Tide Is High', Credence Clearwater Revival's 'Who'll Stop The Rain', and Cyndi Lauper's 'Girls Just Wanna Have Fun', reports Rolling Stone.
The band have been helping to raise money for the Haiti disaster in their recent tours.
Meanwhile, Arcade Fire won big at this year's Juno Awards in Canada.
Arcade Fire's setlist was:
Who'll Stop The Rain

Keep The Car Running

The Last Time

Crucified Again

Ocean Of Noise

The Tide Is High

Girls Just Wanna Have Fun

Sprawl II (Mountains Beyond Mountains)

Neighbourhood 3 (Power Out)

Rebellion (Lies)
(by Holly Frith)