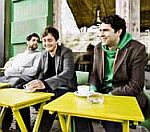 Keane
have been added to the line-up for next month's iTunes festival in London.
The band will play an exclusive performance for 50 fans in the Hub, which is located underneath the Roundhouse.
Tickets for the gig on July 14 are available here: www.facebook.com/iTunesUK.
The iTunes festival will feature a total of 62 bands over 31 nights at the Camden venue.
The National, The Futureheads, Plan B and Wild Beasts will also perform at the month-long event.
(by Jason Gregory)