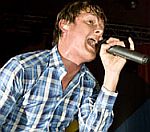 Keane
drummer Richard Hughes has attacked the Conservative party after they used one of the band's hits at their Manifesto launch.
The song 'Everybody's Changing' accompanied Shadow Foreign Secretary Williams Hague as he took to the stage at Battersea power station in London this morning (April 13).
The party, which is seeking to end Labour's bid for a fourth term, has been urging the public to 'Vote for Change' in recent weeks.
Hughes hit out at song selection in a post on Twitter, and said he had no intention of voting for the Conservatives.
"Told the tories played keane at their manifesto launch. am horrified," he wrote.
"To be clear - we were not asked. i will not vote for them."
As previously reported, prime minster Gordon Brown has been passing comment on the music world ahead of the election.
He told the Radio Times he was a fan of Lady Gaga and Cheryl Cole, and that he also liked the hit US TV show Glee. Keane Slam Conservative Party Over Election Manifesto Launch Song.
(by Jason Gregory)