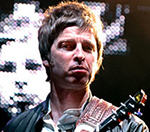 Keane
would like
Noel Gallagher
to produce their next record, despite the
Oasis
man previously expressing his contempt for the band.
In a feud last year, Noel Gallagher said of Keane: "No matter what direction Keane take, they'll still be shit."
At the time, keyboardist Tim Rice-Oxley lashed out at Gallagher in response calling the Oasis man a "cunt" and saying the band are now irrelevant.
However, since covering Oasis' 'Cast No Shadow' at V Festival Chelmsford on Sunday in homage to the no show headliners, Rice-Oxley has had a change of heart.
He tells the Daily Star: "I often wonder if Noel is almost resisting the truth that Keane and Oasis are alike in a lot of respects. I think we share a lot of fans. We are both bands of the people.
"People love coming to a Keane show and an Oasis show because there's a directness to the songs and people come together in a very communal way.
"It would be great for Noel to produce us - I offer the olive branch. We're huge fans."
(by Scott Colothan)