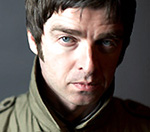 A music blog has published what it claims is the tracklisting for
Noel Gallagher
's debut solo album.
Sourmash Music reports that the as-yet-untitlted album will be released on October 3 and preceded by the single 'Come On It's Alright' on August 29.
The tracklisting for the album includes two songs - 'Stop The Clocks' and 'I Want To Live In A Dream In My Record Machine' - that already exist as demos.
'Stop The Clocks' was also the name given to Oasis' best of collection.
(by Jason Gregory)