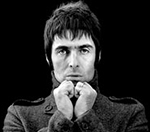 Liam Gallagher
was caught up in the recent travel disruption caused by the volcanic eruption in Iceland, it has emerged.
The former Oasis singer and his family, including wife Nicole Appleton, were left stranded in America after transatlantic flights were cancelled due to the ash cloud.
But Gallagher was able to navigate his way back to Britain by taking to the seas instead.
According to Travel Weekly, the singer and his family joined guests on the recently launched six-star cruise ship, Silver Spirit, on a journey from New York.
The website stated: "Reports from the ship suggest the celebrity family enjoyed their time on board and there was none of the more disruptive behaviour Gallagher became known for during the Oasis heydays of the 1990s."
The ash cloud, which is still causing widespread disruption to flight travel, affected a host of bands last month, including Metallica and The Cribs.
(by Jason Gregory)