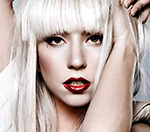 Lady Gaga
has revealed that she wants her music to have a lasting impact on her fans' lives.
The singer spoke about her hopes for her musical legacy while discussing how she coped with being bullied at school.
"I had a very big nose, very curly brown hair and I was overweight. I got made fun of," she told Cosmopolitan magazine.
When asked to complete the phrase: "In 20 years, I hope people will say, Lady Gaga...", 23-year-old star replied: "...changed my life, and her music gave me an identity when I didn't belong."
Lady Gaga also admitted that friends still taunted her about her appearance, despite her huge popularity.
As previously reported, the singer will return to the UK next month to embark on the second leg of her Monster Ball tour.
(by Jason Gregory)