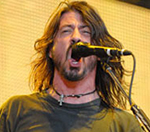 Them Crooked Vultures
have claimed that drummer
Dave Grohl
was taken to see a doctor recently after drinking too much coffee.
Grohl's bandmates said he was "in kind of a mess" following the apparent caffeine overdose.
The drummer's demise was recorded in a video, entitled Fresh Pots, which the band have posted online.
"Two weeks after this video was shot, Dave was rushed to doctor due to the onset of unwanted physical effects caused by too much caffeine," Them Crooked Vultures said.
"For reals. He was kind of a mess."
The concerned group added: "Since then he has reduced his intake of the super delicious hot beverage to a healthier level."
The footage also shows Them Crooked Vultures' other band members Josh Homme and John Paul Jones recording their second album.
At present, it's not clear when the follow-up to the band's self-titled debut will be released.
(by Jason Gregory)