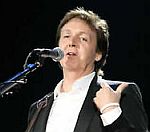 Sir
Paul McCartney
is reportedly set to headline Isle of Wight Festival this June.
Jay-Z and The Strokes have already been confirmed as headliners, and, if The Daily Star's claims are true, The Beatles legend will complete the trio of bill toppers.
Sadly there was no quoted 'source' to substantiate these claims and Isle of Wight Festival have understandably stayed quiet on the issue.
Other festival rumours circulating around the music world are that Green Day will headline the Reading and Leeds Festival, while Kings of Leon are being primed for V Festival.
As reported this morning, Kings of Leon have confirmed their biggest UK headline show ever at London's Hyde Park on Wednesday June 30th.
Tickets, costing £47.50, will be available from 9am this Friday (February 19).
(by Scott Colothan)