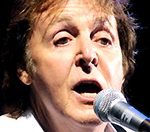 Sir
Paul McCartney
is one of a number of high profile stars unlikely to get an invite to Prince William and Kate Middleton's forthcoming wedding, according to reports.
The couple are understood to be compiling a guest list of 2000 names for the ceremony, but are only focussing on family and close friends.
Former Beatles star Sir Paul has apparently been snubbed, where as David Beckham and Sir Elton John are both tipped to land an invite to Westminster Abbey on April 29.
"There's no room for the great and good you might normally see at society weddings," a source told The Sun.
The Lord Chamberlain's Office are also finalising a further 3000 names for one of two receptions to take place after the wedding.
As previously reported, Peter Andre has been tipped to perform at the nuptials, while Tinie Tempah has denied his rumoured appearance.
(by Jason Gregory)