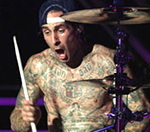 Blink-182
's
Travis Barker
has drafted in an array of very special guests for his debut solo album.
The 34-year-old drummer revealed he won't be recording any vocals for the record and is instead leaving that job to Slipknot's Corey Taylor, Lil' Wayne, The Game, Rick Ross, RZA and more guests.
"I'm not singing or being an MC or anything," Barker told Spinner.com. "Over the last five years, when Blink wasn't around, I played a lot by myself or did a whole bunch of stuff with just me.
"Whether I was playing with T.I. or doing whatever, it just opened another world for me."
Asked about the album's guests, Barker continued: "I'm rounding it out right now. I just love music. The more I can be around it the better, so with my album it's no one genre.
"It goes from everything from punk rock to hip-hop to some electro stuff on there to a metal song with Corey Taylor from Slipknot. It's been really fun and interesting up till now."
(by Scott Colothan)