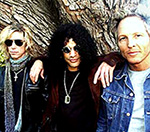 Slipknot
's
Corey Taylor
has been recording songs with
Velvet Revolver
, it has been revealed.
Velvet Revolver's bassist Duff McKagan confirmed the news but said that Taylor is not the band's official new frontman yet.
"We recorded a bunch of songs with Corey. I think he's ****ing great - he's the best voice of a new generation and I'd be proud to do anything with him," McKagan told Music Radar.
He added: The truth is, I can't see Velvet Revolver happening until fall. Slash is touring, I'm just starting to tour - we'll just have to see. I don't have an answer."
Velvet Revolver have been without a singer since Scott Weiland quit the group in 2008.
(by Holly Frith)