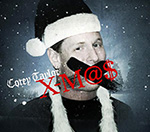 Slipknot
frontman
Corey Taylor
is set to release a Christmas single, it's been announced.
The track, entitled 'X-M@S', is Taylor's first festive effort and will be released on December 12.
The singer, who also performs with Stone Sour, wrote the song in his kitchen after listening to people "bitch" about Christmas.
"Personally, I love the holidays, but they seem to bring on severe stress in most people," he said. "So, I wrote this in honour of crotchety, drunken bastards who don't know the difference between a yuletide and a toolshed. Plus, I think it's funny."
You can listen to 'X-M@S' below now. A video is also due to be released next week.
Fan of the singer have also launched a Facebook campaign to help the Taylor get to number one.
Meanwhile, Taylor recently revealed that he had a secret crush on Cheryl Cole but wasn't a fan of reality shows like The X Factor.
Corey Taylor - 'X-M@S':
(by Jason Gregory)