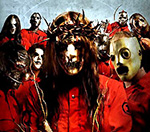 Slipknot
have announced that Donnie Steele will replace late bassist Paul Gray.
Steele, who was the band's original guitar player, will fill in on their upcoming gigs this summer. Gray died last year.
"Donnie was in the band at the very beginning, and rather than get an outsider, we thought it would be a fitting tribute to Paul to play with someone from within the family," the band said.
"Donnie was great friends with Paul and we can't think of a better way to celebrate his memory than with someone who was there with us at the very beginning."
Slipknot added that they were "looking forward" to returning to the stage and "honouring Paul's legacy".
Slipknot are scheduled to headline the Sonisphere festival this summer as part of a European tour.
(by Jason Gregory)