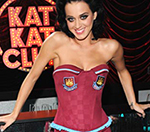 Katy Perry
has recorded a cover of West Ham's club anthem for boyfriend Russell Brand.
The sent her rendition of 'I'm Forever Blowing Bubbles' to the comedian via Twitter.
In a message on the social networking website, Perry said she was upset she couldn't join her boyfriend as West Ham took on Manchester United.
She wrote: "For my baby who's at the game without me, I'm there in spirit!"
It is Perry's second tribute Brand's favourite football club.
Last month, the star wore a West Ham-inspired corset at the MTV Europe Music Awards.
The couple began dating in September after Brand hosted the MTV Video Music Awards in New York.
(by Jason Gregory)