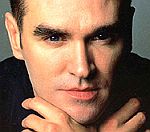 Morrissey
has sensationally claimed that the act of suicide is an honourable thing to do.
The 50-year-old also revealed in an interview on the BBC's Desert Island Discs yesterday that he has committed taking his life himself.
Presenter Kirsty Young asked Morrissey "Have you thought about being in control of your death? Have you thought about shuffling off this mortal coil at a time of your own choosing?"
He replied: "Yes, I have. I think self-destruction is honourable. I always thought it was. It's an act of great control and I understand people who do it."
In response to what luxury item he would take with him if castaway on a desert island, Morrissey added: "I would either take a bed, because I like to go to bed, or I would take a bag of sleeping pills because I might want to make a quick exit."
Asked to pick between the two, Morrissey eventually chose the bed.
The singer's musical choices were 'Sea Diver' by Mott The Hoople, Marianne Faithful's 'Come and Stay With Me' and 'There's Gonna Be A Showdown' by New York Dolls.
(by Scott Colothan)