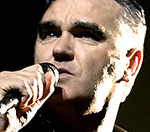 Morrissey
is to include to previously unheard songs on an re-release of his 1992 single 'Glamorous Glue'.
The songs – 'Safe, Warm Lancashire Home' and 'Treat Me Like A Human Being' – will accompany the single on April 18.
Meanwhile, a compilation of songs from Morrissey's solo career is due to be released on April 25.
'The Very Best Of Morrissey' will be accompanied by a DVD containing some of his most famous music videos, including 'The Last Of The Famous International Playboys', 'Suedehead' and 'The More You Ignore Me, The Closer I Get'.
The tracklisting for 'The Very Best Of Morrissey' is:
The Last Of The Famous International Playboys

You're Gonna Need Someone On Your Side

The More You Ignore Me, The Closer I Get

Glamorous Glue

Girl Least Likely To

Suedehead

Tomorrow (US remix radio edit)

Boxers

My Love Life (US mix)

Break Up The Family

I've Changed My Plea To Guilty

Such A Little Thing Makes Such A Big Difference

Ouija Board, Ouija Board

Interesting Drug

November Spawned A Monster

Everyday Is Like Sunday

Interlude (Morrissey solo version)

Moonriver (extended version)
(by Jason Gregory)