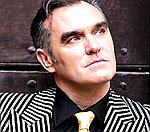 Morrissey
has launched an attack against the royal family ahead of the Royal Wedding between Prince William and Kate Middleton on Friday (April 29).
Speaking on BBC 5 Live today (April 27), the former Smiths star labelled the family "benefit scroungers" and said they no longer represented England.
He said: "Why would I watch the wedding? Why would I watch it? I couldn't take any of that seriously.
"I don't think the so-called royal family speak for England now and I don't think England needs them. I do seriously believe that they are benefit scroungers and nothing else. I don't believe they serve any purpose whatsoever."
Morrissey also claimed that press reports from Buckingham Palace that claimed people "loved" the royal family were inaccurate.
"Go out now and speak to people on the street and they will laugh at you. They really will," he added.
(by Jason Gregory)