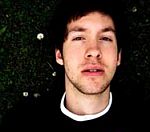 Calvin Harris
has admitted that he wanted to make a "mockery" of
The X Factor
by
invading the stage
John and Edward
's performance.
While the Grime twins were murdering Queen's 'Under Pressure' on Saturday night, Harris jumped on stage grabbed one of them while holding a pineapple to his head.
The invasion caused him to get booted out of the ITV studios and his appearance on The Xtra Factor was later axed.
Speaking to Chris Moyles on Radio 1 this morning, Harris said: "I was just inspired to make a mockery of the show.
"Because it is a music competition, it is a joke and I think it should be treated as such, so when people were saying 'John and Edward, maybe they deserve to stay in this week', I was like 'are you watching what I'm watching?'
"It's terrible, it's terrible... For the greater good of the nation I wanted to go out there and make an idiot of myself and sort of just bring the whole show into another kind of area in which it's treated as kind of a joke."
(by Scott Colothan)