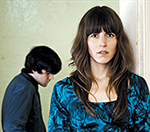 The Fiery Furnaces' publisher has issued a statement about the
Radiohead
'Harry Patch' furore claiming it was all a case of mistaken identity.
As reported earlier today, Matthew Freidberger from the brother/sister outfit vehemently slammed Radiohead for recording the song 'Harry Patch (In Memory Of)'.
He ranted to Spinner.com: "Fuck you! You brand yourself by brazenly and arbitrarily associating yourself with things that you know people consider cool. That is bogus. That's a put-on. That's a branding technique and Radiohead have their brand that they're popular and intelligent. So they have a song about Harry Patch."
The comments, in the context of the song being about the last surviving British soldier of World War 1, immediately sparked outrage.
In a statement to Pitchfork, The Fiery Furnaces spokesperson now claims that Friedberger mistakenly thought the Radiohead song was about American composer Harry Partch who died back in 1974.
(by Scott Colothan)