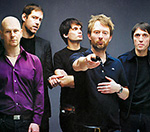 Radiohead
have revealed that they won't be releasing '
The King Of Limbs
' part two.
The band, who released the eight-track album 'The King Of Limbs' last month, have had fans speculating whether they would release a further album with the left over tracks.
"The Butcher' is from the King Of Limbs sessions. 'Supercollider' was recorded during that period and finished off after the album came out," guitarist Ed O'Brien told BBC 6 Music.
He added: "There are [other] songs that we have started, that we never finished, but there's not like seven or eight finished songs waiting in the wings to be released now, or in the autumn, or something."
"When we start a new record, we tend to start afresh. It's kind of an evolutionary thing - only the fittest survive."
Radiohead will release two new singles 'The Butcher' and 'Supercollider' on limited edition vinyl for Record Store Day on April 16.
(by Holly Frith)