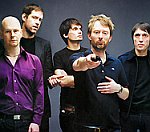 Radiohead
will release two new singles on limited edition vinyl for Record Store Day next month.
The band, whose new album 'The Kings Of Limbs' was given its physically yesterday (March 28), will release 'Supercollider' and 'The Butcher' on a seven-inch vinyl single for Record Store Day on April 16.
2,000 copies of the two previously-unreleased songs will be made available, reports fansite Ateaseweb.com.
Beastie Boys, Tinie Tempah and Gorillaz are among the acts who will also release singles for Record Store Day in April.
Meanwhile, Radiohead gave away their free newspaper 'The Universal Sigh' to fans yesterday (March 28).
(by Holly Frith)