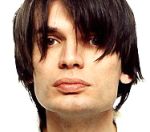 Radiohead
guitarist Johnny Greenwood's Popcorn Superhet Receiver will come to London next month, two years after it was performed for the first time.
The London Contemporary Orchestra, conducted by Hugh Brunt, will perform the piece at St Luke's on October 10th.
Greenwood's composition won BBC Radio 3's 4th annual British Composer Awards in 2006.
It also appeared last year as part of the guitarist's original soundtrack to the film There Will Be Blood.
(by Jason Gregory)