September 1, 2008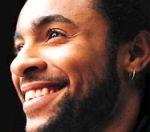 'The original DJ' Shaggy has revealed that he wants to collaborate with Robbie Williams and Britney Spears. The singer, who is famous for 'Mr Boombastic', said he wanted to take both performers out of their comfort zone.
Read more >>

September 1, 2008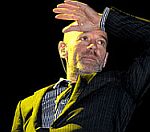 R.E.M frontman Michael Stipe has hinted that he may move to England if Republican John McCain is elected US President. Stipe, a well documented supporter of Democratic hopeful Barack Obama, said it is "unfathomable" that anyone would vote for Mr McCain.
Read more >>

September 1, 2008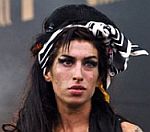 Amy Winehouse may face legal action after she pulled out of a festival in Paris hours before she was due to take to the stage. Winehouse cancelled her appearance at Rock En Seine after falling ill at her home in London.
Read more >>

September 1, 2008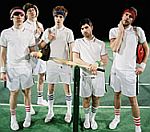 Foals paid tribute to the topless festival fans as they performed on the main stage at the Jersey Live festival last night (August 30th). Performing as the sun set over Trinity sports ground, the group treated fans to an energetic set packed with songs from their debut album 'Antidotes'.
Read more >>

September 1, 2008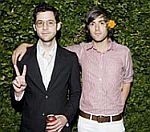 We Are Scientists stirred up tense Channel Island relations as they performed at the Jersey Live Festival last night (August 30th). Taking to the stage ahead of headliners The Zutons, the band's energetic set fused tracks from their two albums.
Read more >>

September 1, 2008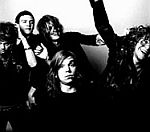 Cage The Elephant covered the The Stooges classic 'I Wanna Be You Dog' as they performed on day two of the Jersey Live festival yesterday (August 31st). Playing under notably overcast skies compared to yesterday's fine sunshine, the group, lead by frontman Matt Shultz, were on raucous form.
Read more >>

September 1, 2008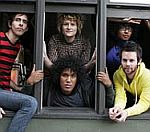 Black Kids hailed the "beautiful" people of Jersey as they performed on the main stage at Jersey Live yesterday (August 31st). Drawing one of the biggest crowds of the day, the band also managed to make the sun appear during their eight song set.
Read more >>

September 1, 2008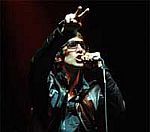 Despite extremely mixed reviews, The Verve have claimed the number one slot in the album chart this week with 'Forth'. Their fourth album and first release in a decade knocked Irish trio The Script from their perch at the top of the charts.
Read more >>

September 1, 2008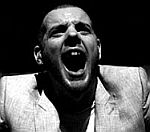 Mike Skinner has told Gigwise that finishing The Streets' new album 'Everything Is Borrowed' was the "highlight of my life". The 29-year-old explained that the purpose of the album, released on September 15, was to write something extremely positive and upbeat in direct contrast to his hard-hitting previous record 'The Hardest Way To Make An Easy Living.'
Read more >>

September 1, 2008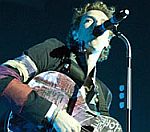 Coldplay have revealed that their fifth studio album will be released in December 2009 to cap off an incredible decade for the four-piece. The band's frontman Chris Martin made the revelations in a very special interview with R.E.M's Michael Stipe on BBC6music over the weekend.
Read more >>

September 1, 2008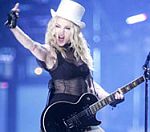 Madonna's touring party has threatened to walk out of her Sticky & Sweet world tour because of low-cost travel arrangements, it's been claimed. A number of her staff are said to have voiced their anger after being forced to sleep in a cheap airport hotel following her concert in Nice last week.
Read more >>

September 1, 2008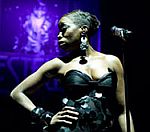 Warner Records have removed Estelle's latest album from iTunes in an apparent bid to force people to buy the album on CD. The decision, which is only enforced on the US store, is designed to encourage fans to buy the complete album rather than downloading individual tracks.
Read more >>

September 1, 2008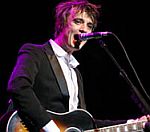 Babyshambles frontman Pete Doherty has apparently been banned from staging a gig at his house in Wiltshire. Doherty and the rest of Babyshambles had hoped to stage the gig after they were banned from performing at a festival in the county.
Read more >>

September 1, 2008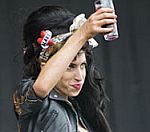 Amy Winehouse has overdosed on drugs twice in the last 12-months, according a friend of the singer. The friend, who isn't named, told the Sun newspaper that Winehouse's first overdose happened in August last year after she took a cocktail of drugs including cocaine and heroin.
Read more >>

September 1, 2008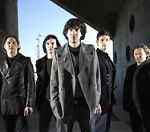 Snow Patrol are to become the first band to release an interactive album application for the Apple iPhone and iPod Touch. The feature, available as a download, will provide fans with access to behind-the-scenes images and artwork for 'A Hundred Million Suns', which is out next month.
Read more >>

September 1, 2008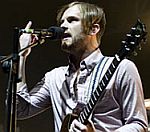 Kings of Leon frontman Caleb Followill has said the group's foreign fans, including those in the United Kingdom, have helped sustain their career. Followill told Billboard that the American group would probably have been dropped had they not achieved international success.
Read more >>

September 1, 2008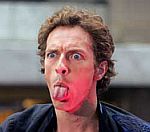 Coldplay frontman Chris Martin has apparently claimed that a tabloid newspaper has helped him stay off drugs. In a new interview, the singer revealed that instead of narcotics he had developed a fondness for tattoos.
Read more >>

September 1, 2008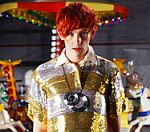 Patrick Wolf is to release a new album that's been inspired by the Smashing Pumpkins and Kate Bush. In a posting on his Myspace page, Wolf also revealed that a second album would accompany the record.
Read more >>