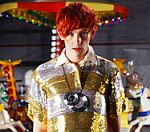 Patrick Wolf
is to release a new album that's been inspired by the
Smashing Pumpkins
and
Kate Bush
.
In a posting on his Myspace page, Wolf also revealed that a second album would accompany the record.
"I have two albums coming out soon. Think Smashing Pumpkins, Kate Bush. I'm going double, double, trouble," he wrote.
"That's why I'm taking so long. One disc is heartbroken and in deep despair. One is in deep dark joy dedicated to my new love, my old and forever love, William The Conqueror."
His admission comes less than a year after he claimed he was quitting the music industry. It's not clear exactly when either album will be release.
(by Jason Gregory)