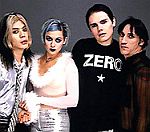 The Smashing Pumpkins
have announced that they will be releasing remastered versions of their back catalog.
The band will release their first two albums 'Gish', 'Siamese Dream' along with compilation set, 'Pisces Iscariot' later this year, reports Rolling Stone.
Each album release will include special bonus material which may feature their first live performance of 'Starla' and a cover of Lynyrd Skynyrd's 'Sweet Home Alabama'.
The second batch of albums, their 1995 double album 'Mellon Collie', 'The Aeroplane Flies High', and 1998's 'Adore' will be released in 2012.
Followed by 'Machina/The Machines of God' and 'Machina II: The Friends and Enemies of Modern Music' in 2013.
(by Holly Frith)