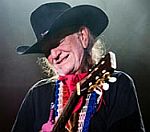 Willie Nelson
has avoided a jail sentence for marijuana possession after the judge said he couldn't be 'mean' to the singer.
The country singer was arrested back in November on charges of drugs possession after police found 6 ounces of marijuana on his tour bus.
Nelson has now been let off with just a fine, reports The Sun.
"He's got to sing 'Blue Eyes Crying In The Rain' with his guitar, You bet your ass I ain't going to be mean to Willie Nelson," Hudspeth County prosecutor Kit Bramblett said.
Although Nelson was found with 6 ounces on him, prosecutors said with no packaging it weighed less than 3oz - making the offence a misdemeanour.
(by Holly Frith)