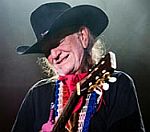 Outspoken country singer
Willie Nelson
has called on America to impeach George Bush for crimes he believes the President has committed.
In the animated interview with radio DJ Alex Jones, Nelson impelled the nation to "throw the bastards out" and alleged that the Bush administration would do all within their grasp to stay in power.
He blasted: "If you break the law you have to pay for it one way or another and if these guys haven't broke the law nobody has."
"The deck's been stacked and we need to figure out a way to get a new fresh deck in there in the deal and I don't know how else to do it except throw the bastards out."
Importantly, he also snubbed the Democrats as a suitably replacement for Bush's Republican party, saying: "We went through a couple of elections now and we didn't do anything, we thought we did but come to find out that the voting machines are crooked, everything's stacked against us, the politicians that we vote for won't stay and fight and they won't count the votes."
As Send2Press reports, Nelson also claims that the Bush administration will do all they can to remain in power at the end of his term, adding: "It could be anything and anything will work because they have everyone scared to death.
"I just think there are people out there who will do anything to stay in power, anything to keep what they have, they've already proven they'll do anything to keep it."
(by Scott Colothan)