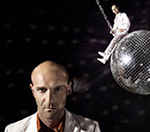 We've all seen sh*t music videos before however French techno hero
Vitalic
has taken the art to new literal depths.
The promotional video for the thumping 'Second Lives' follows the daily goings on inside a toilet cubicle filmed by a secret camera.
As well as women taking a dump and men pissing on the toilet floor, we get such action as someone fishing out their mobile phone from the cistern, a pervert licking the toilet seat, several couples having sex and some bloke peaking under the cubicle while women answer nature's call.
Astonishingly, despite the subject matter, there is absolutely no sign of George Michael.
You can watch the video in full below.
Lifted from Vitalic's stunning second album 'Flashmob', 'Second Lives' is released via Different Records/PIAS on March 22nd.
(by Scott Colothan)