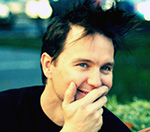 Blink-182
frontman Mark Hoppus has compared
The Twilight Saga
franchise to the iconic Star Wars movies.
Hoppus told MTV he had yet to watch the hit vampire films, but said that they reminded him of George Lucas's creation.
"I have not seen the new Twilight," he said.
"I don't know. I suppose for this generation that's like somebody coming up to me and saying [they] never saw Star Wars."
Hoppus also revealed that Stars Wars: The Empire Strikes Back, which is celebrating its 30th anniversary, was his favourite film of all time.
"I think that this movie has a longevity because it kicks so much ass, and it's definitely my favourite movie of all time," he said.
"And I think that it ... has a really amazing second-act feel to it," he said. "It's really dark. It's moody. It's not just an action/adventure.
"There's all these different elements that come into it. There's betrayal and there's discovery. It's a really great movie."
The third film in the Twilight series, Eclipse, starring Robert Pattinson and Kristen Stewart, is due to be released on June 30.
The soundtrack features songs by artists including Muse, Florence & The Machine and Vampire Weekend.
(by Jason Gregory)