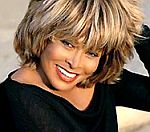 Tina Turner
believes that
Amy Winehouse
's problems with drugs started before she came successful.
Speaking to the Mirror newspaper, Turner said that drugs are now making it hard for the singer to "deal with this success."
"When you buy drugs that feeling passes and you have nothing," she said. "I don't even know if you can remember what that feeling was. You get nothing from drugs except a feeling and bad health.
"I prefer to spend my money on something I can see, I can use."
Turner, who will play four dates in the United Kingdom next March, said that Winehouse could enjoy a 40-year career if she overcomes her problems.
"If she was clean she would be celebrating now because she is wonderful," she said. "Her voice is absolutely timeless."
Winehouse was awarded with an Ivor Novello prize for her song 'Love Is Not A Losing Game' yesterday (May 22nd) but arrived too late at the ceremony in London to collect the award.
(by Jason Gregory)