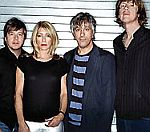 Sonic Youth
have confirmed the full details of their sixteenth album '
The Eternal
', which is set to be released this summer.
The record is due to hit the shelves on June 9 via Matador and was produced jointly by the band and John Agnello.
It was recorded throughout November and December at the band's Echo Canyon West studio in Hoboken
Sonic Youth first revealed early details of the record via their Twitter profile in January.
The track listing is:
Sacred Trickster

Anti-Orgasm

Leaky Lifeboat(for Gregory Corso)

Antenna

What We Know

Calming The Snake

Poison Arrow

Malibu Gas Station

Thunderclap For Bobby Pyn

No Way

Walkin Blue

Massage The History

(by Daniel Melia)







See also:

Sonic Youth's Thurston Moore To Play One-Off London Show

(30.03.2011)

Sonic Youth To Play ATP New Years Eve London Gig

(28.09.2010)

Sonic Youth Call The BNP 'F*cking Clowns'

(26.10.2009)

Sonic Youth Unveil Huge US Tour

(27.04.2009)

Sonic Youth Want To Play Glastonbury Festival

(26.01.2009)

Sonic Youth Unveil New Album Details On Twitter

(22.01.2009)

Led Zeppelin Star To Unite With Sonic Youth

(04.12.2008)

Sonic Youth Join Indie Label Matador Records

(10.09.2008)