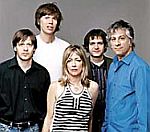 Sonic Youth
has announced they are leaving major label Geffen Records after two decades for indie label Matador Records.
The band will join the label for one album, which will is due out next year.
Speaking to Billboard about the move, guitarist/vocalist Thurston Moore said, ""Matador is a super strong, high-profile label with an indie distribution system that is exactly what a band like us in this current climate needs more than anything."
"It's almost like we were flexing our song muscles to appeal and impress the invisible men at Universal, so maybe now it's kind of matured enough with us where this record will be killer," he continued.
Sonic Youth will play All Tomorrow's Parties later this month in Monticello, New York.
(by Victoria Tsigonis)