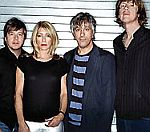 Sonic Youth
guitarist Thurston Moore has said the band want to perform at this year's Glastonbury festival.
Moore said the festival was one of the two outdoor events in the UK that the wanted to attend.
"I wanna play Glastonbury because it's such a disaster camp and I really enjoy that," he told BBC 6Music.
"The general consensus amongst musicians I know is that it's like walking into the pit of hell, and in some way it really feels like that."
Moore added that his memories of attending past Glastonbury festivals included the event's infamous mud.
"The only times I've ever been there it's been so incredibly messed up, where you can't really get onto the site because there's a huge lorry stuck in the mud," he said.
"People are traipsing through water damaged tents and then you finally get on stage and you're so wrecked from the experience.
"You're lucky to get through any perceptible, decent set at all and then there are these huge roving cameras on stage that are spinning around documenting the disaster. There's something about that I find really charming.
As previously reported, Sonic Youth are currently putting the finishing touches to their new album.
(by Jason Gregory)