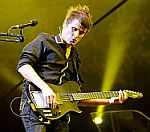 Muse
delivered a stunning headline performance as they closed this year's Sziget festival in Budapest last night (August 15).
The band thrilled fans with a 13-song set on the main stage, complete with a spectacular lights and laser show.
Watched by the biggest crowd of the weekend, Muse opened their set with recent single 'Uprising'.
The riff-heavy track was followed by the equally hard-hitting 'Supermassive Black Hole' and 'Map Of The Problematique'.
Frontman Matt Bellamy, who wore a glitter suit and Kanye West-like 'grill' glasses spoke sparingly during the band's set, although he did attempt at points to speak Hungarian.
He also left the stage on several occasions, allowing bassist Christopher Wolstenholme and drummer Dominic Howard to play instrumental interludes.
Using the performance as a warm-up for their UK stadium dates next month, Muse conducted huge sing-alongs during 'Time Is Running Out' and 'Starlight'.
The latter song saw lasers shine high into the clear nights sky.
Following a brief break, the band remerged to close their set - and the festival - with 'Plug In Baby' and 'Knights Of Cydonia', which saw huge plumes of gas fired into the air.
Muse played:
Exogenesis

Uprising

Supermassive Black Hole

Map Of The Problematique

New Born

Hysteria

United States Of Eurasia

Undisclosed Desires

Resistance

Time Is Running Out

Starlight

Plug In Baby

Knight Of Cydonia
Kasabian warmed up for Muse, playing a 14-song set to a crowd only slightly smaller than the headliners.
Kicking off with 'Shoot The Runner', the Leicester band were on energetic form, with singer Tom Meighan praising the "beautiful crowd".
Other highlights in their set included 'Doberman', 'Club Foot' and 'Fire'.
The band ended their performance 'L.S.F', which triggered deafening chants from festival-goers.
Kasabian played:
Shoot The Runner

Underdog

Where Did All The Love Go?

I.D.

Mothman

Take Aim

Empire

Fast Fuse

Doberman

Clubfoot

Stuntman

Fire

Vlad The Impaler

L.S.F
Elsewhere on day five, Major Lazor and Yeasayer wowed fans on the A38-wan2 stage, while Die Antwood were among the performer in the Party Arena.
More than 65,000 people attended the five-day festival, which is now in it's 18th year.
(by Jason Gregory)