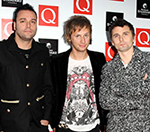 Muse
have compared their appearances on the movie soundtracks for
The Twilight Saga
to "selling your soul".
The band's songs have featured on the score to all three Twilight films, including the recent box office smash Eclipse.
Bassist Chris Wolstenholme admitted the movies had helped raise the band's profile in the US, but said it was unlikely they would do any more.
"It's very difficult in America because you don't have anything like Radio 1, nothing is national," he told BBC Newsbeat.
"You have to take every opportunity you get over there and sometimes you have to sell your soul."
Wolstenholme said singer Matt Belamy had been offered the opportunity to write more movie scores but that touring was now their main priority.
"I can't see there will be too much of that going on until we slow down on our touring," he said.
(by Jason Gregory)