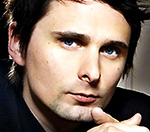 Muse
frontman Matt Belamy has spoken for the first time about his relationship with actress Kate Hudson.
The pair went public with their romance after Hudson was spotted watching Muse headline the Glastonbury festival in Somerset last month.
In an interview with the Daily Mirror, Bellamy said things were "going great" and that he was "very happy".
"We had such a good time at Glastonbury," he said. "We just have fun together and are seeing how it goes. Kate is great."
The singer also revealed that he was set to meet Hudson's mother, Goldie Hawn, in the coming weeks.
"I'm quite nervous," he said, adding: "It's a little bit too soon to talk about weddings and stuff. Ask me again in a few months though."
Bellamy is understood to have begun dating Hudson shortly after his split from long-term girlfriend Gaia Polloni.
(by Jason Gregory)