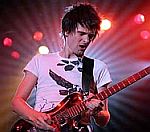 Muse
singer Matt Bellamy says drummer Dominic Howard makes a better frontman than himself – aesthetically at least.
The 31-year-old frontman made the comments in regard to Muse's infamous appearance on Italian TV show 'Quelli che il Calcio' when all three members switch their instruments.
Speaking at the NME Awards last night, Bellamy spoke to Xfm about his drumming skills, saying: "It's the one instrument I can't play. I'm, so shit on the drums it's ridiculous.
"I think Dom makes a better frontman and I make a better drummer in terms of the way we look. Obviously when it comes to playing it's a completely different story".
Despite these comments, Matt Bellamy landed himself the Best Looking Male gong at The NME Awards ceremony at London's Brixton Academy.
Muse themselves were crowned Best Band and they also took an award for Best Website.
(by Scott Colothan)