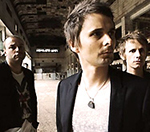 Muse
believe their appearance on the soundtrack to
The Twilight Saga
films has helped them win fans in America.
The band have contributed songs to the opening two films in the popular vampire franchise, including the recent hit New Moon.
Speaking to Asia One, bassist Chris Wolstenholme said the group were originally unaware about The Twilight Saga's cult following.
"I was vaguely aware of the books (before author Stephenie Meyer approached us) but we didn't think anything of it at the time," he said.
"The next thing you know, it's Twilight fever. It's good because it has made a difference for us in trying to break into America."
Muse's audiences in the US have continued to grow in recent years and the band are due to return for six dates, starting next month.
The jaunt includes a gig at Madison Square Garden in New York on March 5.
(by Jason Gregory)