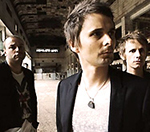 Muse
want to make a documentary about life on the road, in the same vein as
Nirvana
's 'Live! Tonight! Sold Out!'
The band have already released a series of live DVDs, from 2002's 'Hullabaloo' to 'H.A.A.R.P' which captured their 2007 Wembley Stadium gigs.
But bassist Chris Wolstenholme has revealed plans for a peek behind the scenes of a Muse tour, telling Australia's Triple J radio station (via BBC 6 Music): 'We'd like to something a little bit more along the lines of a touring documentary as opposed to just a live gig this time.'
'Something a little bit more like Nirvana's 'Live! Tonight! Sold Out!' I think that was one of the best tour documentaries I've ever watched; just life on the road and what it's like, with obviously a bit of music here and there, and other loads of other random stuff as well.'
Muse are currently in Sydney for the Big Day Out festival and kick off a North America tour at the end of February.
(by James Glazebrook)