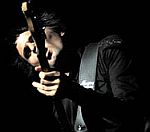 Muse
have been asked to record the soundtrack to the upcoming Clash of The Titans movie.
Singer Matt Bellamy revealed the band were personally approached to record songs to the fantasy blockbuster, starring Avatar actor Sam Worthington, which hits the cinemas on March 26.
Speaking about film soundtracks, he said: It's something we're up for doing – it's just a case of timing because we're always on tour. Clash Of The Titans is the first interesting offer we've had for film work."
"We're definitely interested in writing for films at some point when we get a break from being on the road," he continued to the Daily Star.
In a separate interview with the National Post, Bellamy insisted it would bear no resemblance to Muse's work.
"It'll be really sort of mental music for a film like that. Totally different to Muse," he explained.
(by Scott Colothan)