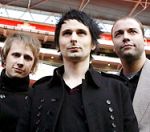 Muse
have are to tour the UK, Europe and the US this autumn.
In a message on their website, the band said they expected to announce specific details about the gigs "soon".
They band will also be supporting U2 on the American leg of the group's 360 degree world tour, including a show in New York on September 24th.
Muse are currently recording the follow-up to 2006's 'Black Holes And Revelations'.
The album is due to be released at the end of the year.
(by Jason Gregory)